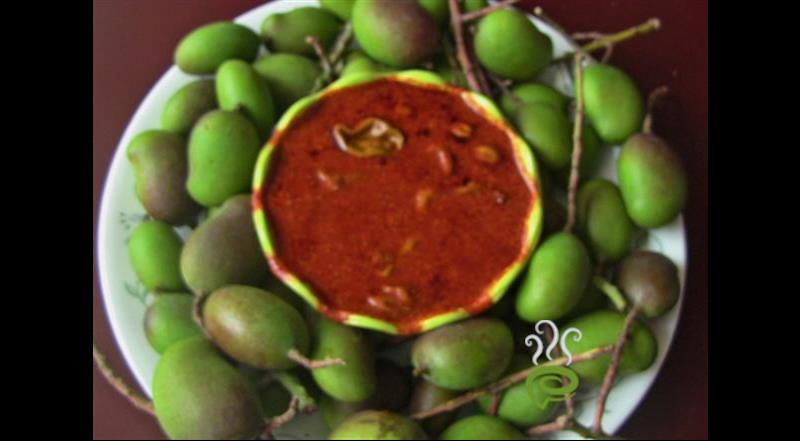 Kerala Mango Pickle
Kerala Mango Pickle / Manga Pickle is a Spicy, Aromatic and Sinfully Addictive Pickle made with Gingelly oil and Spices. It is perfect sides for all kinds of rice dish. The taste, color, preparation, and the spices used vary from place to place. Pickles made with mango, lemon and ginger are very popular in Kerala and a must have for Sadya. Among those, mangoes are all time favourite. The sourness of the fruit, the heat from the red chili powder, and the aroma of fenugreek and asafetida, together make a tongue tickling combination. Depending on the size of the raw mangoes, the number of mangoes will vary. So when you chop the mangoes, you should get about 1 to 1.25 cups of chopped mangoes. At room temperature, this will last for 1 to 2 days. If you directly keep in the fridge after the pickle is prepared, then it will last for about a week.
1

no

Mango

large

1/4

cup

Red chilly powder

1/4

tsp

Turmeric powder

1/2

tsp

Fenugreek seeds

Uluva

1/4

tsp

Mustard seeds

1/4

tsp

Asafoetida

Kayam

1/4

cup

Salt

1/4

cup

Gingelly oil/cooking oil
Cut the mango into small dices and remove the pit.

Add salt and turmeric and keep it aside for 5-6 hrs.

Add red chilly powder and mix it well.

Roast fenugreek seeds, dry grind it and keep it aside.

Heat oil in a pan.

Add mustard seeds and when they start to splutter, add asafoetida.

Allow it to cool.

When the oil becomes room temperature, mix it with the mango pieces.

Add the roasted fenugreek powder and mix well.

:- Serve Manga Pickle with rice and curd.