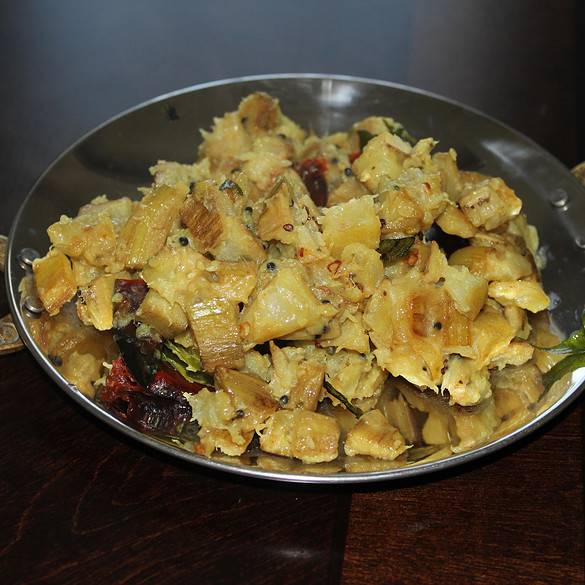 Kaya Mezhukkupuratti with Video
Kaya Mezhukkupuratti is a simple and flavorful dish from Kerala prepared with raw banana. This stir fry goes well with rice. Kaya Mezhukkupuratti is a kerala style simple stir fry where the raw banana is blanched and then seasoned with coconut oil. Mezhukkupuratti can be made with many vegetables but the popular ones being Kaya(Raw Banana), Chena(Elephant Yam), Carrot, Achinga Payar(Long Kaya) etc. This is a nutritious dish that can be easily prepared at home. You can explore a well detailed recipe here.
For preparing the nutritious dish, first remove the skin of kaya. Cut lengthwise and make it small pieces and put it in the water. Add turmeric powder to banana and mix well and keep it for 15 mts.

When you mix the banana the stain will go. Then clean with water for couple of times and drain.

Heat pan and add coconut oil 1 tbsp. Add mustard seeds and let it splutter. Add dry red chillies, curry leaves and green chillies. Add the kaya to it and add salt. Add water and mix. Close pan with lid.

Check if it is cooked and if water needed just sprinkle it. After 10 mts, mix it and cook again in low heat. Make it little dry. Add little coconut oil and mix it and switch off. This is a delicious stir fry that tastes best with hot rice. Chart out the dish in your menu chart. Worth it! Enjoy the dish.