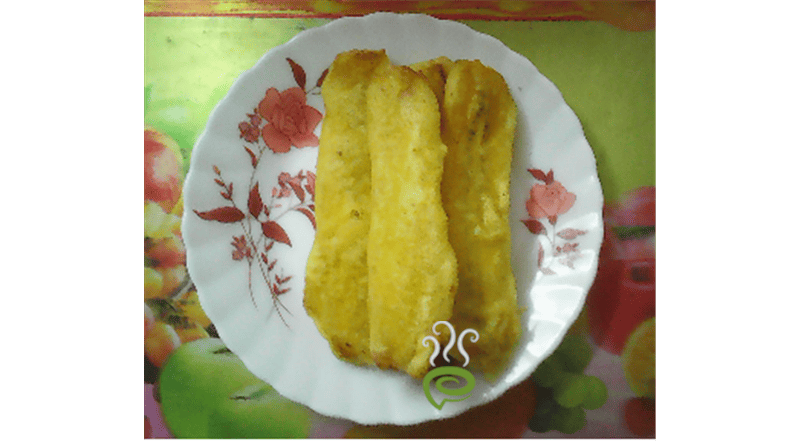 Ripe Banana Fritters / Pazhampori
Ripe banana fritters / Pazhampori is a traditional evening snack item in Kerala which is banana's coated with flour and deep fried in oil. Its available through out Kerala and all most all Keralites prepares it the same way. It is an easy snack to prepare which does not require any great cooking experience. If you are more health conscious, use 'atta flour' instead of all purpose flour for making the pazham pori / ethakka appam.
Make a batter of Maidamaav (All purpose flour) along with Salt, Turmeric Powder, Sugar and Rice flour adding required quantity of water (similar to the batter used for making Dosas) and keep the batter aside.

Peel the Bananas and remove the top and bottom portions of the peeled Bananas slightly (to get proper shape at both edges) and cut them into two or three pieces (depending on the size of bananas) vertically (as shown in above picture) and keep these pieces separately.

Heat Oil in a Cheenachatty, take the banana pieces (one-by-one) and dip it in the batter fully and put it into the hot oil and when one side of the banana piece(s) is cooked properly turn it to other side in the oil and allow to cook that side also of the banana(s) pieces, on medium flame.

When colour of both sides of the banana pieces turns into golden, take it out from the Oil and keep them in a container/ plate.

Naadan Pazhampori is ready and this Pazhampori can serve with evening Coffee/Tea etc.