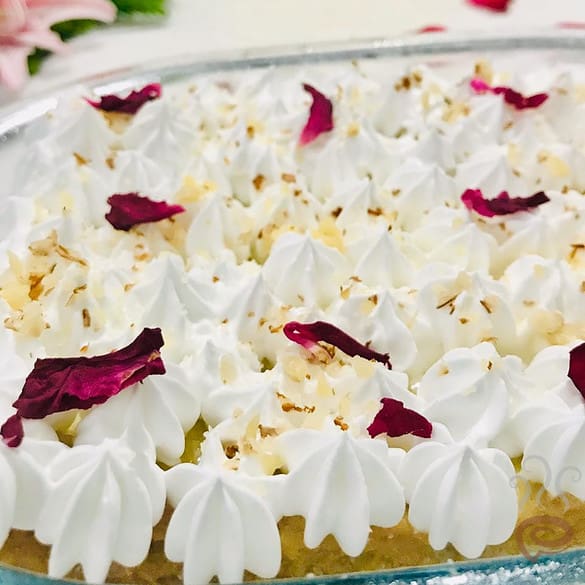 Tres Leches Cake | Milk Cake
Tres Leches Cake is a Mexican Three Milk Cake that uses milk, condensed milk and cream. The three milk is used to soak the cake and the cake is finally dressed with whipped cream. This is a simple and delightful cake. Tres Leches Cake is a Spanish dessert of sponge cake soaked in milk bath, unique one of its kind and very delicious too. It's very easy if you already known soft cotton sponge cake. Tres Leches Cake has got to be one of the world's best kinds of cake! Maybe I'm just biased because I'm a huge fan of sweetened condensed milk and cream, and you get both in this cake. Milk Cake is one of the yummiest cakes i ever tasted. I love to serve Milk Cake in the summer season since it's a chilled and amazingly refreshing cake, but of course people will crave it year round. You can discover a well detailed recipe here that can be easily prepared at home.
For cake
1

Cup

All purpose flour

4

Nos.

Egg

1/2

Cup

Milk

1/4

Cup

Sun Flower oil

1

Tsp

Vanilla Essence

1

Cup

Sugar

1

Tsp

Baking powder

1/4

Tsp

Baking soda

Salt

Pinch
In a bowl sift together the flour, salt, baking powder and baking soda. Keep aside.

Beat eggs with sugar for 6-7 minutes. Then add sunflower oil, milk and vanilla extract. Mix it slowly with a spatula.

Add the mixed flour part by part to the creamed mixture and blend well till no flour remains.

Pour the creamed mixture into the greased cake pan. Cook it in low flame for 35-40 minutes.

Spongy vanilla cake is ready now.

Whisk together the milk, sweetened condensed milk and cream. Once combined, pour the leches over the cake. Refrigerate the cake overnight. Every hour or so keep pouring over the milk mixture that collects in the platter back into the cake, this way the cake will absorb the leches mixture better and have a rich taste.You can pipe or spread the icing onto the Tres Leches to give it a good decoration. Refrigerate for about an hour or more and serve the Tres Leches sprinkled with rose petals and crushed pistachios..