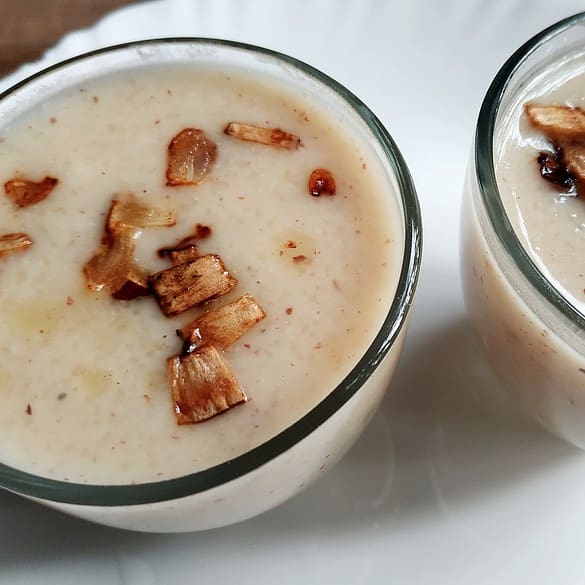 Chakka Kuru Payasam|Jackfruit Seed Kheer
Chakkakuru Payasam / Jackfruit Seed Kheer is a delicious payasam using the seeds of the ripe Jackfruit with dal or parippu. Jackfruit is one of my favourite fruit among all fruits.It is available in summer season and we always make different dishes with Jackfruit and it's seed.Today I'm going to make Jackfruit Seed payasam.It is easy to make sweet and very delicious.It tasted exactly like Parippu pradhaman ,a Kheer made with Chana dal.Jack fruit payasam is one of the most delicious and flavourful payasam I have ever had. It is prepared With Jackfruit seed, jaggery and coconut milk as main ingredients, this is one of the payasam that I have prepared with few ingredients.When I was making, I was not sure about the end result, but when I tasted after finishing, I was so happy that I tried this Jackfruit payasam,it was so simple and impressive. Jackfruit seeds are rich in protein, nutrients, vitamins etc. Jackfruit seeds have a very high nutrient value.
30

Nos.

Jackfruit seed

200

gms

Jaggery

1 1/2

Cup

Thin coconut milk

1

Cup

Thick coconut milk

Water

As required

1/2

Tsp

Cardamom powder

Salt

Pinch

2

Tbsp

Ghee

2

Tbsp

Coconut pieces

3

Nos.

Shallots

Chopped
pressure cook jackfruit seeds for 3-4 whistles with little water.Then drain the water and take out the skin of jack fruit seeds. No need to remove the brown skin.

Grind the cooked Jackfruit seeds with 1/2 cup water into a coarse paste.

Convert it into a pan or kadai.

Pour thin Coconut milk and mix well.

Melt jaggery in 1/2 cup water.pour the syrup through a strainer to remove all the impurities and keep aside.

Pour melted jaggery,cardamom powder and salt.Switch on the flame and Stir continuously till get a semithick consistency.

When it starts thick pour thick coconut milk and mix well.Remove it from the flame

Heat ghee in a pan and fry the coconut bits shallots and raisins.

Add to the Kheer and combine well.

Then serve Chakkakuru Payasam hot or warm or chilled. Leftover payasam can be refrigerated and served later.