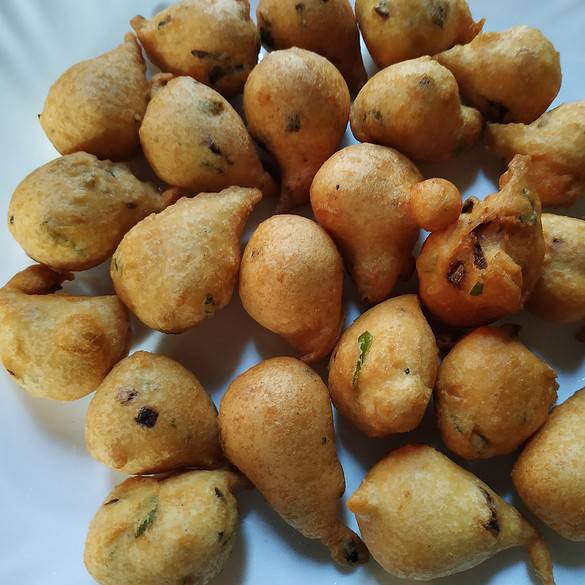 Mysore Bonda Recipe|Mysore Bajji Recipe
Mysore bonda | Mysore Bajji is a very popular south indian snack recipe which needs only few ingredients.This mouthwatering snack is prepared with urad dal,onion,green chilly, crushed pepper etc.. You can substitute urad dal with rice flour to prepare this recipe.In some areas people prepare this Bajji with rice flour also.It is basically made with the same batter of medu vada with the same mixture of spices but with a different shape. They are crispy outside and fluffy inside. This tasty snack make a delightful treat for any party or snack for tea time. You can make this easy recipe in under 20 minutes and serve it to your guests with tea, coffee or any chutney of your choice. These delectable balls are perfect for including in your next kitty party, potluck or game night menu. Serve them with coconut chutney.
1

Cup

Urad dal

1

Nos.

Green chilly

Finely chopped

1/2

Tsp

Pepper

Crushed

1

Tbsp

Rice flour

1

Nos.

Onion

Finely chopped

As required

Salt
Firstly, in a large bowl soak 1 cup urad dal in water for 2 hours.

Drain off the water and transfer to a mixi or grinder. blend to smooth thick and fluffy batter adding 1-2 tbsp of water

Transfer the urad dal batter to a bowl. beat in one direction for 2 minutes or until the batter turns smooth and fluffy.T hen add chopped green chilly,salt,onion and crushed pepper.

Add finely chopped curry leaves and rice flour.combine and beat for a minute.

Now dip your hand in the water, and start dropping them one by one to hot oil.keep the flame in lower to medium stir occasionally. also, fry the vada till they turn golden brown and crisp.

Finally, serve bonda with coconut chutney.