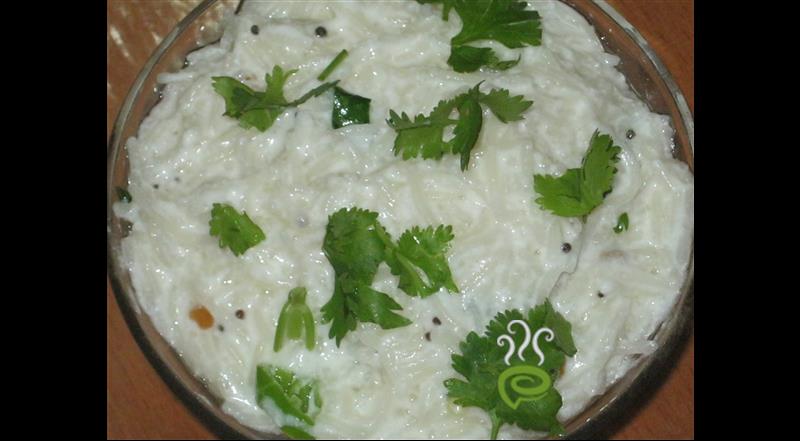 Thayir Semiya | Curd Vermicelli
Thayir Semiya is a South Indian breakfast/tiffin dish. Thayir means curd or yogurt. This is a simple, tasty and tangy flavored delicious dish that you can prepare in a few minutes. If you are bored of consuming curd rice for noon day meals, you can make an option for Thayir Semiya. Also termed Curd Vermicelli, this is an interesting alternate to curd rice. Curd is nutritious and has many health benefits. It cools your system and provides strength to your immune system. Curd is rich in calcium and other vital nutrients required for body. Semiya is cooked and then added to creamy curd to get delicious and thick Curd Vermicelli. The tempered seasonings with curry leaves give a rich taste to the dish. It's recommended to serve the dish chilled but some prefer it hot. This is a tasty and wholesome dish, very soothing for your tummy. For the diet conscious, this is an apt dish. Learn how to to prepare this yummy semiya dish following the step by step instructions.
1

cup

Vermicilli

semiya

1

cup

Curd

1/2

tsp

Mustard

1

tsp

Ginger

1

tsp

Curry leaves : chopped

1

chopped

green chilli

2

tsp

Oil

Salt

as taste
In a vessel add water. When it boils, add salt,1 tsp oil and semiya and close lid.

Now drain semiya from the vessel and keep aside.

In a pan, add oil and temper mustard and saute ginger, green chili and curry leaves.

Now add curd to vermicilli in the other pan.

Now add temper and mix well.

Garnish with coriander leaves and serve. The delicious breakfast dish is ready.