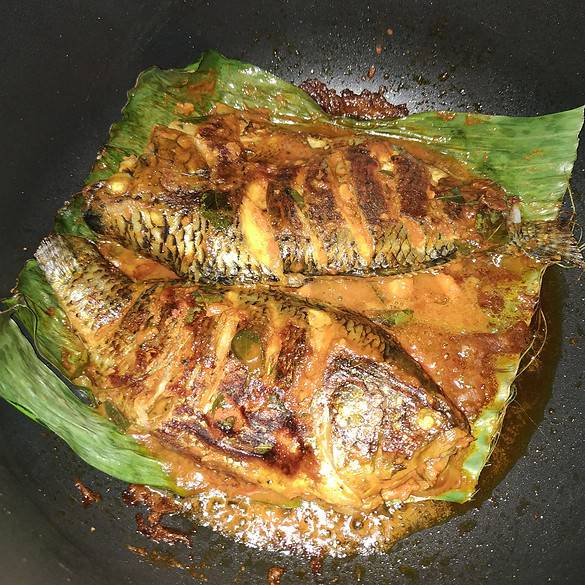 South Indian Fish Fry | Fish Fry in Banana Leaf
South Indian Fish Fry is a delectable fish delicacy popular in South Indian Cuisine. Kerala is a popular tourist destination which has its beauty of nature and distinct flavors of food and the area of seafood is remarkable and mouth watering. South Indian Fish Fry is unique and special with the gashed fish coated with a flavorsome masala and fried in Banana Leaf with coconut oil. The aroma and flavor of the dish is remarkable and the masala sinks deep into the flesh. This is one of the easiest fish delicacies that you can easily prepare at home with limited ingredients. Fish is nutritious, rich in vital nutrients required for the body. You can explore a well detailed Fish Fry in Banana Leaf recipe here. Fish Fry in Banana Leaf is the best! once you experience it, it gives you an unforgettable mouthwatering memory 🙂.
Make the marinade for the fish ready first. Add all ingredients under marinade: red chilli powder, turmeric powder, crushed ginger and garlic, pepper powder and required salt to a plate. With little water make a thick marinade.

Make horizontal gashes or cuts on the fish (3 -4 per piece) to help masala seep in well. Coat each piece of fish front and back well.

Let it rest in the fridge for 20 mins.

Heat a pan and place one banana leaf, Pour 4-5 tbsp oil and fry the marinated fish on both sides.

When both sides are cooked, convert it into a plate.

The delicious fish delicacy is ready. Serve immediately.