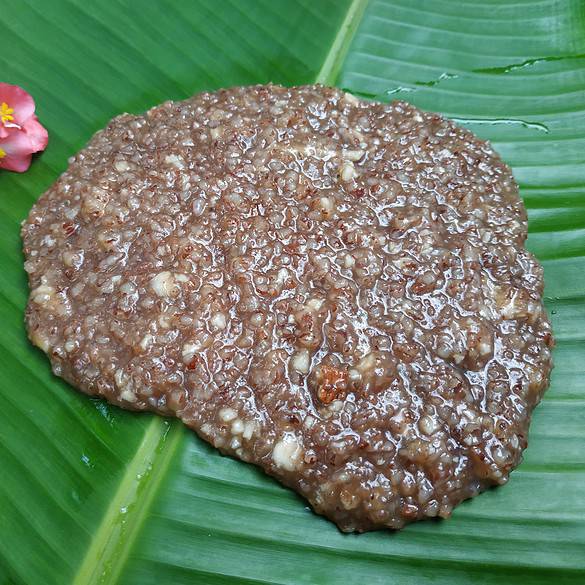 Ney Payasam | Ari Payasam | Temple Payasam
Nei Payasam is a traditional classic preparation from Kerala. It is main Prasadam / Nivedyam offering in temples of Kerala. Ari Payasam is made with rice, jaggery, cardamom powder and grated coconut. These are all the ingredients that goes into this dish. This payasam is also known as sharkkara payasam,ari payasam etc. Nei in Malayalam means ghee or clarified butter, and Nei payasam is a sweet desert made with rice , jaggery and ghee. When slowly cooked over wood fire, a handful of ingredients take on a heavenly dimensions. No wonder it is such a favorite of gods and mortals. This is a special traditional payasam usually served in Sabari Malai temples and many Kerala temples during occasions. It is also prepared during poojas like bhagawath seva, sastha preethi etc.The taste of the payasam will be heavenly. Keralites say it as as "kadu madhura payasam" meaning very very sweet. In Kerala, the nei payasam will be made in an uruli. This payasam has a deep brown color which usually comes from jaggery. The color of the payasam changes depending on the color of the jaggery. Lets learn the detailed recipe with step by step procedures here.
1

Cup

Unakkalari/Payasam rice

6

Pieces

Jaggery

Salt

Pinch

3

Tbsp

Garated coconut

1/2

Tsp

Cardamom powder

3 1/2

Cup

Water

1

Tbsp

Ghee
Soak rice for 20 minutes.Then wash well.

Take a pressure cooker and pressure cook rice by adding water For 2 whistle in medium flame.

Cook jaggery in little water and strain well.when the rice is well cooked,add jaggery and mix well

Add salt,grated coconut,cardamom and mix well

Now cook for 5 minutes stirring continuously.Finally add ghee,check the taste and remove it from the flame

So the tasty thick Ney Payasam is ready now...